Cartagena Nightclubs
Nightclub Packages
Personal Host
VIP Transportation

Assigned VIP Host

Airport Bypass, Hotel Check-in

Body Guarding, Translations
BOOK NOW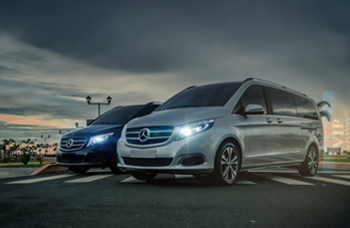 PARTY at AIRPORT
Meet & Greet:

VIP Hostess to meet and greet your group at the airport.

Luggage:

Your hostess will handle the luggage transfer to the SUV limo.

Mobile Nightclub

Drinks and party girls inside the limo waiting for your group to let the party begin. Party just doesn't end there, call us for details.
BOOK NOW
VIP Nightclubs
VIP Transportation

Our reliable limousine fleet will ensure your from and back hotel transportation.

VIP Host

You will be assigned a VIP hostess to chaperon your event.

Club & Bars

You will get a bottle service and or VIP entry to the clubs.

All Inclusive

Price will include all the taxes and fees except the tip to your host.
BOOK NOW
Cartagena is touted for having some of the most beautiful architecture in Colombia. The port also has a vibrant nightlife scene. If you're planning a trip to Cartagena, you may be wondering what nightclubs are best. There are numerous high-energy clubs within the walled city that are known for their upbeat atmosphere and friendly party-goers. If you're visiting Cartagena, don't pass these nightclubs up.
Bazurto Social Club
For a guaranteed good time, head to Bazurto Social Club. Open Thursday through Saturday, the nightclub is a hodgepodge of color, music, singing, and dancing. This is one of the few places in Cartagena where you'll hear live Champeta music. Bazurto also hosts some of the country's best DJs.
La Movida
La Movida has quickly become one of Cartagena's favorite hangouts. Each weekend, the club is packed with both locals and out-of-towners looking to finish the night with a drink and good conversation. There are places to sit both inside and outside the club and drink selections are plentiful.
Demente
Demente Bar is best known for their delicious plates of tapas, brilliant drinks, and upscale design. The nightclub typically hosts a cool, cultured crowd, especially after refurbishing the venue to create a minimalist touch. Demente offers an eclectic playlist that will keep you in your seat and a group of the friendliest bar staff you'll ever meet.
Havana
Café Havana in Cartagena was once a rundown warehouse. Today it's one of the hottest bars in the city. The club typically hosts live salsa bands to create an old school ambiance that people love. The music plays from around 11 PM and doesn't stop until after 3 AM.
Fragma
Fragma is a popular club located near Café del Mar and just upstairs from Restaurante Plaza Las Armas. The nightclub has three different rooms to choose from, each playing their own selection of music: vallenato, reggaeton, and house/techno. Fragma is a great place to go if you're in search of a traditional-style club.
Eivissa
A Top local and traveler join Eivissa are always worth having a look at due to its proximity to the clock tower. Situated on a rooftop overlooking the city square this Outdoor Bar & Nightclubs is a multi-level social hot spot that consistently carries crowds of visitors and loyalty. The first floor is the clock tower pub and popular to many serves us some of the best bar food in Latin America. The second floor is the Electronic/Urban dance room and the rooftop servers up Deep House and Latin beats until late at night.
Farandula
A new player to the high power nightclub scene this club features spectacular Dmx lighting giving your clubbing experience a professional twist. Party as hard as one can in Farandula, as it caters to high-energy indiviudals looking for a place to dance off a day of drinking late into the morning. Situated in Getsemani, a few blocks from Centro Historico, this nightclub is the apex for those seeking Electro Crossover during the later night hours in Cartagena.
Tu Candela
Always a fan favorite and popular to all that visit the Centro Historico district at Night. This club has been around for years and should be a consistent stop for those just looking to mingle with a crowd of individuals. The music varies nightly but it's always open and always has some movement. Whether it's for a relaxing drink on its balconies overlooking the square or a quick shuffle to Latin Caribbean beats on the dance floor Tu Candela is worth the cover charge on some nights.
Alquimico
Always a favorite to those who visit Cartagena this throwback prohibition bar servers the best cocktails in Cartagena and the prices reflects. Also situated near the square list most club venues it's accessible from the street and is very selective about who is allowed in as there are locals that frequent this establishment. The venue is multi-level and its glory is found on the roof-top playing a mix of crossover and urban music. Count on Alquimicio to be a guaranteed stop on your tour of the nightlife in Cartagena during your stay.
Closed Clubs
Malagana
Malagana Café and Bar in Cartagena offers family hospitality, bistro-style fare, and rooftop cocktails. Thanks to the warm energy, you'll feel right at home. The club is stylish, yet welcoming, and is furnished with beautiful artwork and photographs. In addition to a lavish interior, the club also has a terrace where you can take your food or drinks.
Tasca Maria
Wednesday night's tend to be the busiest when party-goers fill up the streets. The club is somewhat small but offers a punch of fun. The DJ also knows how to keep the crowd entertained.
Bourbon Street
Bourbon Street is a French Quarter inspired saloon that mimics that feel of New Orleans. The club is best known for its Cajun-flavored, American-style menu with items such as burgers, ribs, and wings. Bourbon Street also has great live music, a pool table, and a younger crowd that keeps the party going well into the morning hours.
Plaza Trinidad
Plaza Trinidad is a small square located in Cartagena's old core. While not exactly a bar, this area of the city encourages public drinking and fun. You can purchase your alcohol including beers, rum, and aguardiente at the corner store. With booze in hand, find a spot on the stone steps or concrete benches to sit.
Donde Pacho
Donde Pacho offers imported food, liquor, and wine, as well as American candies and imported Asian sauces. The relaxed space is a favorite among locals and a great place to visit. In addition to an outdoor space, the venue also has a paved outdoor terrace.
La Caponera
Unlike many other nightclubs in Cartagena, La Caponera is open every night and often late into the night. The prices are generally cheap and the décor is cool. The club plays great salsa music and encourages dancing.
Casa De Cerveza
Casta De Cerveza sits atop of the baluartes of the historic wall that surrounds Cartagena. Not only does the club offer a great view of the Bay, they also offers fun in the form of a novelty activity. Party-goers can choose to drink from a big cylinder of beer with multiple taps so that you can share with others at your table.