Medellin Bachelor Party Packages
Men are becoming quite creative when it comes to enjoying the long time celebrated tradition of a bachelor party. Once confined to the shores of Miami or Energy of Vegas groups are now making their way to more exotic destinations which of recent includes Colombia. The Colombian culture lends itself naturally to absorbing the debauchery and demands that come with a stag do. Whether you are partying it up in Cartagena or Medellin each has its own uniqueness which makes for an ideal party destination all year around.
Medellin is centered in the Andes Mountain Range which keeps the city cool and temperate year around. There is no bad time of year seasonally to visit as the weather is exactly the same everyday all day varying only 10 degrees from Morning until Dusk. Jose Marie Cordova is the international Airport that services Colombia's second largest City. The Direct flights from FLL or MIA are no more than 2.5 and Atlanta 3.5 hours so you don't need to waste an entire day traveling or switching time zones like you would flying coast to coast.
As you enter airspace you can preview the mountainous landscape and coffee fields that was home to the most famous drug cartels around 20 - 30 years ago. After you make it out of Customs and Immigration (about 20 minutes) that is where the fun begins and where Colombia VIP Services can assist you for the remainder of your stay.
The ride into the city is about 40 minutes by bus but we shorten the distance by flying you in on a chartered Helicopter. For less than a $150 you get arial view of the City its surrounding areas and arrive to your destination in only 15 minutes. From the landing strip we transport you to your Crib or Penthouse via our VIP Limo Bus where a Meet & Greet is held complete with Buffet Style Colombian Food and Gorgeous Hostesses to help facilitate your knowledge of the Paisa Culture.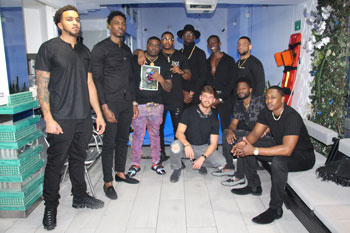 The Term Paisa refers to the unique culture and customs traditionally tied to only Medellin and its bordering cities which include Pereira and Manizales. The Paisa's are a clean, well kept and extremely attractive culture and it reflects in the City with its pristine groomed mountain ranges, clean streets and walk ways. As of 2015 Medellin has become a top 10 destination for families and Single Men looking to relocate. As peso continues to weaken against the dollar we expect to see continued growth in the explosive Real Estate Market.
At a 3:1 Peso to Dollar Ratio there is almost no reason not to Rock Star your Bachelor Party. Blowing it out at Nightclubs, Restaurants, Fonda's, Casino's and Pool Parties will only land you a hundred or two in the whole certainly not something to even pay attention too. When it comes to Citylife in particular Nightlife Medellin has something for everyone Thursday - Monday. Should you look to visit during the week still not an issue as we offer Custom Package solutions where we bring the party to your Penthouse or Mansion. Stay in or venture out you will always find it to be a city accommodating to your every desire.
The Nightlife has its quarks as the City plays host to many holidays. There are solid Electronica and Reggaeton Mashup Clubs around the city usually no more than 15 minutes from the most popular tourist destination Parque Lleras. Perhaps the most prized location for any bachelor party Parque lleras will help you relive moments of your first days in College with numerous bars, restaurants, clubs and lounges stacked a top each other and loaded with young Paisa's walking its streets at night. Common to the area of Bar Crawls or simply getting smashed and putting your pickup skills to the test. If your Spanish is strong then you stand a good chance of meeting a pretty lady for the night and if not no worries there are plenty of 'Working Girls' walking the streets too so everybody wins in the end!
As the night wears on so does the continued partying. Like most metropolis cities Medellin will offer you a vast array of international cuisines including Sushi, Thai, Peruvian, Libanese, Italian, etc. and the same options applies to its selection of nightclub offerings. On any given weekend a bachelor party will have more than its choices of Clubs to attend including strip clubs for some late night action.
In South America Pole Dancing is more of an athletic sport than a tantalizing strip tease. The Strip Clubs in Medellin are full Service meaning things don't stop with the Lap Dance and going into the VIP won't set you back more than a round of drinks. Yes, its a dangerous formula for any Stag but hey 'When in Rome'. The quality of these clubs does vary and please do not take recommendations from taxi's as they always bring you to the venues that offer them a kickback and then the Club passes those costs onto you.
As you awake from your dream from the night before its time to do it all over again. Start things off by super charging the afternoon with a Custom Pool Party. Forget about leaving your Mansion or Penthouse the idea here is to bring the party to you! Equipped with DJ, Sound System, Colombian BBQ, Guest list, Decorations and Security we flood with Pool with excitement for over 6+ Hours. Party until the early hours of the night and if the energy is still strong why not keep things going until late into the night we have the ability to keep the guests walking through the door as you wish. There is only one requirement All invited attendees must wear bikini's!
We pride ourselves on the ability to deliver custom party package options for any size group. You will find our pricing to be competitive and services to be unique mainly because its the people and staff we work with that makes the difference. With the majority of our staff being female and bi-lingual being in the presence of beautiful women will become an afterthought hours after your arrival. Start your Medellin Bachelor Party planning process today be reaching out to us by Phone: 305.600.5944 or Click here , we truly hope to hear from you , Saludos!