Medellin Colombia Private Chef
Hire a Chef in Colombia
Look to personalize every moment of your vacation or retreat by hiring a personal chef to cook your meals. Available for full-day service or a breakfast buffet the chefs available for hire are capable of handling any size party regardless of what the diet or food requirements dictated. the Chefs in Colombia for hire are professional, certified, and dress the part. Decorated in professional attire these individuals have worked in all the top restaurants in both Cartagena and Medellin.
BREAKFAST
A vacation isn't a vacation unless you enjoy the pleasures of a laid-back breakfast made to order watching the sunrise or ocean waves crash onto the beach. waking up to excellence is a great way to spend any vacation knowing your first meal of the day will always be ready and done precisely as you had ordered it minutes prior. Breakfast can be cooked in a variety of ways including buffet style for larger parties or made to order. In addition, you opt to have your professional chef cook with a bit of international flair with a focus on the local's way of doing it in Colombia. Healthy or Hearty our professional chefs for hire in Colombia will see to it that your group enjoys the best in-house options for breakfast no matter what time of the day you look to have it served.
BUFFET
Perhaps the most popular selection is our buffet selection. This is a favorite amongst all parties as you will have food delivered to your door in a buffet-style format ready for consumption. A buffet-style food option offers a casual dining experience at home without any of the hassles and costs of dining out. Buffets can be serviced any time of the day even at Midnight or after a long day of partying. This format is the most economical option for any party depending on the number of guests. We are able to deliver these homemade meals directly to your Airbnb or Apartment rental in well-persevered food containers ready to be served.
COLOMBIAN BBQ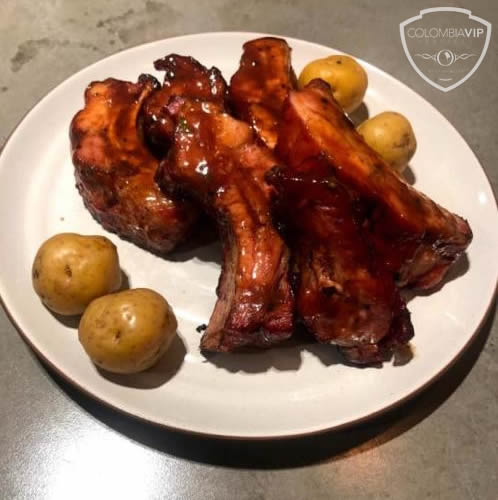 Only second to a breakfast option the most requested food service for our chefs is to prepare the Colombian BBQ. With choice cuts of meat and fish, your party will indulge in the finest quality foods prepared as the rangers once did all their cooking on an open fire grill. Colombian is mired in its traditions and the BBQ is one of them by preferring the open-aired charcoal dusted treats vs those prepared in an oven. The BBQ can be done at all levels starting with Whole fish, chicken, meat, and pork pulled directly from the farm or ocean that very morning. These BBQs are taken seriously and so will be the guests enjoying the delicious creations arriving hot off the grill.
PRIVATE PARTIES
Chefs are an ideal trademark for any privately hosted event. Being away from home and in a foreign country, you may not have access to the food resources or equipment you are used to. A Chef can step in and deliver on fine local cuisines served to satisfy any pallet. Ideally, for Private parties, you can customize the options to include appetizers, aperitifs, wine tastings, desserts, and much more all designed to complement the main meal and event. Why not include a Server or Barman to ensure every moment of your dining experience is kept at a professional level just as if you were in a restaurant dining without the costs.
No matter what the occasion hiring a Chef in Colombia will offer you the vacation you sought out when arriving in Medellin or Cartagena. No longer do you need to stress about serving your guests or family after a long Tour or outing on the water. Instead, come home or wake up to a homemade elegantly cooked meal at your request. All you have to do is make your food preferences known in advance for a palatable experience to be talked about afterward when your dancing and enjoying the local nightlife around you.