DJs of Colombia
No celebration is complete without music. The right tunes will set the mood of your celebration while providing guests with an endless source of entertainment. Of course, a stereo in the corner of the room isn't going to cut it. If you're hosting a party in Cartagena, you'll need a DJ. An experienced DJ will know exactly what songs to play to get guests on their feet. They know how to read a room and with some insight from the client, can offer a playlist of incredible songs that will gradually build up the energy in the room.
There are many situations that call for a professional DJ. If you're hosting a private party, music is a must. Without tunes to keep the atmosphere relaxed and upbeat, the party is simply a lot of noise from people trying to talk over one another. Indoor parties are not the only place where DJs can liven up an event. You may also want to hire a professional as entertainment for your pool party, yacht party, or beach party. In fact, any type of private party or event in any location can be made much better with a DJ.
Top DJs of Colombia
Adriana Lopez
With Adriana Lopez as your main event of your nightout, you can satisfy all of your guests in one fell swoop. Unlike most live musicians who stick to a single genre of music, Adriana Lopez has the ability to instantly switch styles as the party builds to its climax and slowly goes back down. Depending on your preferences, She plays a wide range of music, from pop and hip-hop to reggae and alternative. Unlike with live musicians, there is no need for pauses or intermissions - just endless music at the fingertips of the experienced DJ. This can provide party planners with peace of mind as they prepare for their celebration.
BOOK NOW
Magdalena
Do you need lights for your party? Most DJs can also provide this service too. In addition to having the right music playing at your party, mood lighting can take your celebration to the next level. Professional DJs like Magdalena often have special systems for lighting that can accommodate large spaces. Whether it's on a yacht in the middle of the water or along a white sand beach, Magdalena can work with your unique space to get the look and feel you want.
BOOK NOW
KhoMha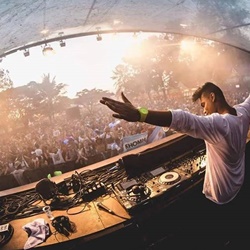 As Cartagena quickly becomes one of the most popular destinations for partying, it's no surprise that high end DJs are in high demand. Where else can you go to get a single source of entertainment that provides multiple services rolled up into one affordable package? However, not all DJs have the same level of experience and professionalism so choose wisely. You'll want to attend KhoMha's party who has plenty of experience hosting private parties and has a solid reputation and references to back him up.
BOOK NOW
Memek
Pao Calderon
Figueroa & Obando
FMarkovich