Cartagena Restaurants
Reserve a table at one of Cartagena's best restaurants and enjoy a delicious Colombian meal. While best known for ceviche, a raw fish dish with lemon and chili, the city offers a diverse range of unique delicacies that you likely won't find anywhere else in the world. If you're traveling in Cartagena, be sure to stop for a bite to eat at one of these eateries.
El Boliche Cebicheria
Offering high-end gourmet fare, El Boliche Cebicheria is one of our top choices for traditional Colombian dishes. Meals are prepared by talented chef Oscar Colmenares who has mastered his skills after working in some of the best restaurants in the world. Every dish is crafted with Colombian tropical fruits, fresh seafood, and coastal flavors.
BOOK NOW
Carmen Cartagena
Carmen Cartagena offers contemporary cuisine with a menu inspired by local flavors. The restaurant uses only top-tier ingredients and gives many of its dishes an Asian touch. From the deconstructed seafood to the succulent pork, you'll want to try everything on the menu at least once.
BOOK NOW
Don Juan
Don Juan is an upscale eatery that routinely caters for the present of Colombia while visiting Cartagena. They are known to have the best grilled octopus in town, as well as an array of other delicious options like a prawn and lobster risotto.
BOOK NOW
Trattoria Di Silvio
For an Italian feast, head to Trattoria Di Silvio. The popular restaurant offers a menu of traditional Italian fare, such as pizza and pasta. They also offer other great dishes such as fresh sea bass in lemon sauce and salmon ravioli. The environment is also on point, from the open-air architecture to the live music that plays softly throughout the venue.
BOOK NOW
Marea By Rausch
Marea By Rausch is considered one of the best seafood restaurants in all of Cartagena. These mouthwatering seafood creations were developed by some of Colombia's most influential culinary experts, Jorge and Mark Rausch. The venue is decorated in a fish-theme with hand-painted walls and a romantic terrace that gives diners a view of Cartagena's up-lit cupolas.
BOOK NOW
El Santisimo
El Santisimo has remained one of Cartagena's top culinary destinations for more than two decades. The chefs use a mixture of Caribbean flavors and French flair to create gourmet dishes like king prawn grilled and served with coconut rice, a light coconut-based sauce, and plantain soaked in Kola Roman, a local soft drink.
BOOK NOW
La Vitrola
La Vitrola is one of Cartagena's most elegant restaurants located in the city's tourism area. Due to its popularity, it can be challenging to get a table there. The old-school, Cuban-style eatery has a strict guest list and an incredible menu that you'd be lucky to sample.
BOOK NOW
La Perla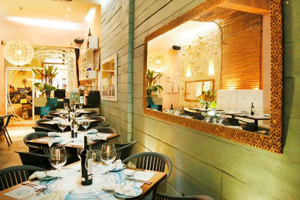 La Perla is undoubtedly one of Cartagena's best restaurants and has established itself as one of the top stops for gourmands looking for delicious food at affordable prices. The venue is most famed for their tiraditos which are thin strips of fresh sea bass or tuna cured intiger milk or with an Asian kick. The restaurant also offers an impressive selection of Caribbean-inspired cocktails.
BOOK NOW
FM Restaurante
You'll find FM Restaurante situated in a restored 300 year old colonial home with an interior garden courtyard. While the venue itself is impressive, the food is even more inventive. The menu includes Mediterranean classics like sea bass dressed in lemon juice and olive oil, sautéed lobster, homemade pastas, and marinated shrimp served with olive oil vinaigrette. The spacious dining room has a romantic ambiance with low lighting, stunning original floor tiles, and a beautiful piano. While dining, you'll receive old-school service. As tables book fast, be sure to make a reservation.
BOOK NOW